You use a purchase order document when you want to do a b2b purchase as an organisation. Purchase order templates come handy when you are dealing with releasing and managing purchase orders frequently.
In this purchase order template, you can input the company name, address and personnel details to which you want to release the purchase order. Then you can mention itemised list of materials that you are purchasing. You can enter the tax rate and then this template will automatically calculate the total purchase value.
| | |
| --- | --- |
| Name: | Purchase order template |
| Category: | Business, Finance |
| Application: | Google sheets |
| Tags: | purchase order template google sheets, purchase order tracker template google sheets, google sheet add ons purchase order template |
Screenshots of the template: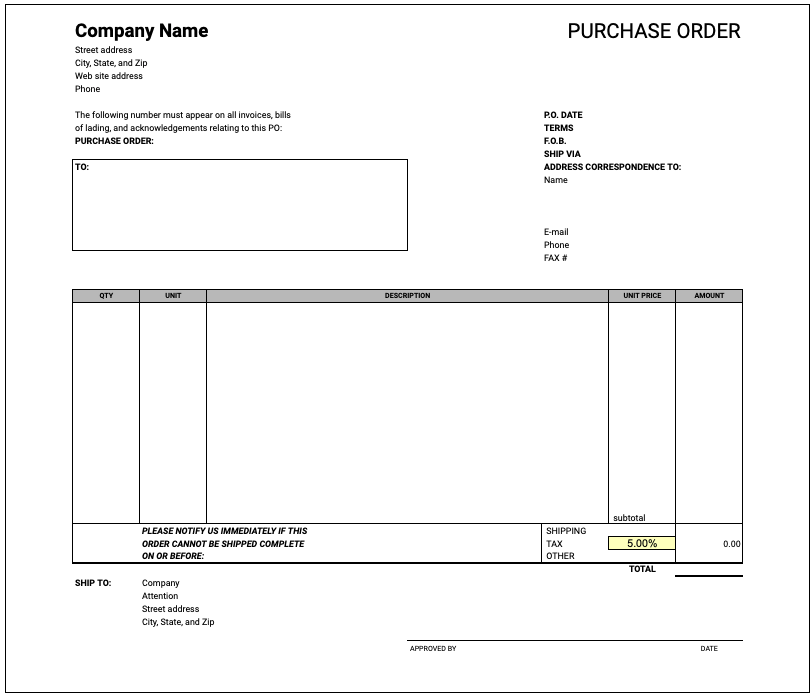 FAQ:
What is a purchase order?
A purchase order (PO) is a commercial document and first official offer issued by a buyer to a seller. It indicates the type, quantity, and desired price of the goods or services the buyer intends to purchase.
Who uses purchase order?
A PO is created by a buyer and sent to a supplier as an official offer to buy goods or services at a specific price. The supplier can then review the offer and, if they agree to the terms, accept the purchase order by providing a written acknowledgement.
How to create a PO?
Creating a PO is typically a three-step process:
The buyer creates a purchase requisition (PR) to request the goods or services they need.
The buyer's organization reviews and approves the PR.
The buyer creates a PO based on the approved PR and sends it to the supplier.
How to create a PO template?
There is no one-size-fits-all PO template, but there are some common elements that are typically included, such as:
The name and contact information of the buyer and supplier.
A description of the goods or services being purchased.
The quantity of goods or services being purchased.
The price of the goods or services.
The date the goods or services are to be delivered.
The terms and conditions of the purchase.
The signature of the buyer.