This is a personal cash flow tracker template.
Cash flow is an important part of personal finance. As an individual financial planner, you need to keep monitoring and recording all cash flow details. Monitoring all cash flow details will help you plan the future expenses accordingly. It will also help you file your taxes at the end of the year.
In this monthly cash flow template, you can track your cash flow details every month. You have a category head for tracking monthly income and monthly expenses. The template will then automatically calculate the balance which is total income minus the total expense.
Under monthly income, you can track things like gross salary, wages, taxes paid, retirement contribution, rental property income, business income, interests, dividends and other incomes. Under monthly expenses, you can track rent or mortgage details, property related spends, credit card spends, transportation spends, food and utility spends, child care spends, personal care spends and any other spends.
| | |
| --- | --- |
| Name: | Monthly cash flow statement – Personal |
| Category: | Personal Finance |
| Application: | Google sheets |
| Tags: | google sheets personal cash flow template, google sheets personal cash flow template, cash flow statement template google sheets monthly, cash flow template google sheets |
Screenshots of the template: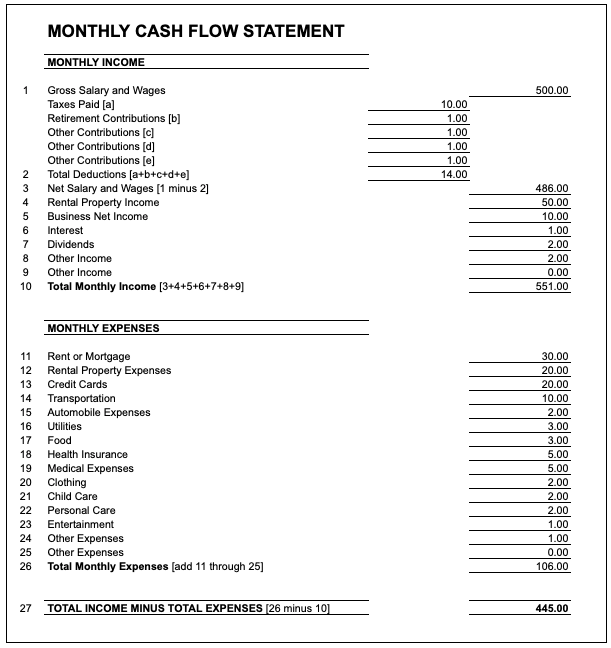 FAQ:
What is a personal cash flow statement?
A personal cash flow statement is a document that shows how much money an individual has coming in and going out over a period of time. The statement can be used to track spending and saving patterns, and to set financial goals.
How to create a personal cash flow statement?
To create a personal cash flow statement, start by listing all sources of income, including salary, investments, and other sources of income. Next, list all expenses, including housing, food, transportation, and other necessary expenses. Finally, subtract total expenses from total income to calculate net cash flow.
Which software to use to create a personal cash flow report?
There are many software programs available that can be used to create a personal cash flow report. Some popular options include Microsoft Excel, Google Sheets, and Quicken.