A lead list template is an important document where you track and manage your business or professional leads. Sales and marketing people use a lead list very frequently. This helps them keep track of the people they have contacted and the follow up details.
In this lead list template, you have 3 sections for the lead. A general info section, address information and digital details of the lead.
Under general information, you can record business name, category, contact person name and current status of the lead like contacted, not contacted etc.
Under address section, you can record their physical address and phone number details. Under digital info section, you can record their email address, website details and add any note if needed.
| | |
| --- | --- |
| Name: | Lead list template |
| Category: | Business, Sales |
| Application: | Google sheets |
| Tags: | google sheets leads template, lead tracker template google sheets, tracking sales leads google sheets template |
Screenshots of the template: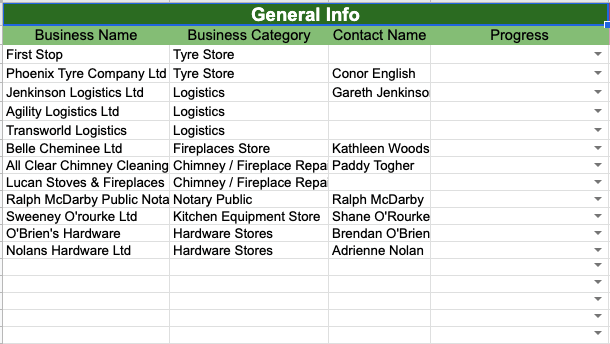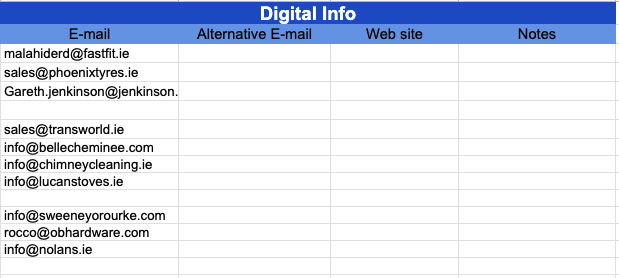 FAQ:
What is a lead list?
A lead list is a database of potential customers that have been identified as having a high likelihood of becoming paying customers. Lead lists are typically used by sales and marketing teams to help them prioritize and focus their outreach efforts.
Who prepares and tracks leads?
The sales and marketing teams are typically responsible for preparing and tracking leads. In some cases, there may be a dedicated lead generation team that is responsible for generating new leads.
What criteria should be used to qualify a lead?
The criteria used to qualify a lead can vary depending on the industry and the product or service being offered. However, some common criteria that are often used to qualify a lead include:
-The lead's level of interest in the product or service
-The lead's budget
-The lead's timeline
-The lead's authority to make a purchasing decision
-The lead's need for the product or service
How to prepare a lead list template?
There are a number of ways to prepare a lead list template. One way is to create a spreadsheet with columns for each of the criteria that you will be using to qualify leads. Another way is to use a CRM system that has lead list functionality.