This template helps you record hours worked at a job and also calculate the total dollar earned on the job over the week. If you need a simple job card that is without pay rate details, you can get the Job site time card template here.
In this template, you have weekly job site time cards. Here you can record your name, job details, start time, finish time, number of hours spent will be calculated automatically. These inputs will be tracked everyday from Mon to Saturday and the template will then show you the sub total hours you spent on the job for that week.
It has a cell where you mention your hourly rate and the time card template will automatically calculates the total payment due.
| | |
| --- | --- |
| Name: | Job site time cards with pay rate template |
| Category: | Business, Timesheet |
| Application: | Google sheets |
| Tags: | google sheets time card template, simple in out time card template google sheets, simple time card template google sheets, Time card with hourly pay rate |
Screenshots of the template: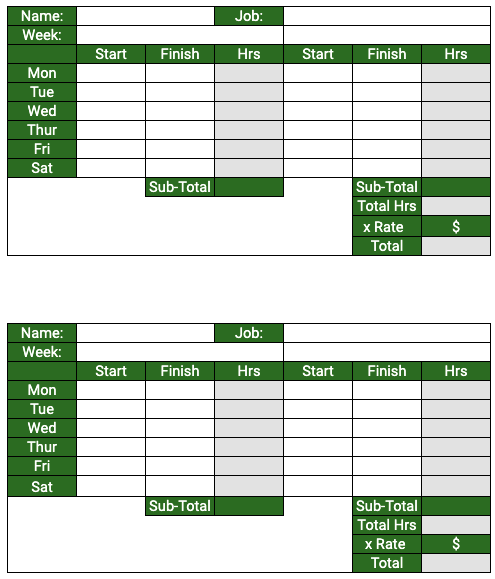 FAQ:
What is a job site time card?
A job site time card is a document used by employers to track the hours their employees work. It typically includes the employee's name, the date, the hours worked, and the signature of the employee or supervisor.
How does a time card help companies?
Time cards help companies by providing a record of employee hours worked. This information can be used to calculate payroll, track employee productivity, and identify issues with time management.
How to prepare a job site time card template?
To prepare a job site time card template, you will need to gather the following information:
– The name of your company
– The name of the job site
– The date
– The names of the employees working at the job site
– The hours each employee worked
– The signature of the employee or supervisor