You can use this template to keep track of your daily production activity. Wether you are a small manufacture or a large one, this template helps you log all activities of your organisation.
Here you can enter schedule and production details in two separate columns. In schedule column you can enter production number, customer name, product size and description and order quantity. In the production column, you can then enter start, stop time, hour details, charged weight, product weight and scrap loss details.
You can also mention the details of the delay.
| | |
| --- | --- |
| Name: | Daily production report template |
| Category: | Business,Manufacturing |
| Application: | Google sheets |
| Tags: | production schedule template google sheets, google sheets factory production templates, production report template google sheets, |
Screenshots of the template: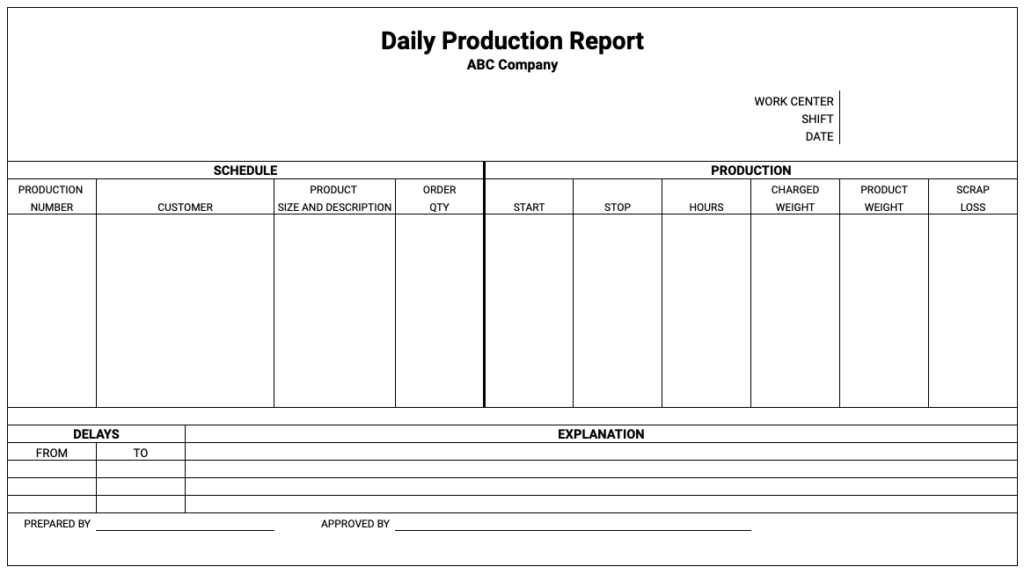 FAQ
What is a daily production report?
A daily production report is a summary of the day's production activities. It contains information on the number of items produced, the production schedule, and any production problems that occurred.
Who uses daily production reports?
A daily production report is used by production managers to track the day-to-day progress of manufacturing operations. It is also used by quality control managers to identify any production issues that need to be addressed.
What is tracked in this report?
The daily production report typically tracks the following information:
• Number of items produced
• Production schedule
• Production problems
• Quality control issues
How does this daily production report help a company?
This report helps companies to track their production progress and identify any areas where improvements need to be made. It also helps managers to communicate production information to other departments within the company.