This template will help you decide wether you should buy a car or lease one. It will list out the benefit of both and give a clear picture of pros and cons of both options.
In this template, first you need to enter the make and model of the car. Then under lease section, you can enter suggested retail price, tax details, refundable security deposit, first month's payment, capital cost reduction payment, last month payment advance, selling price at the end of lease, lease term, discount for present value, future value of last payment.
For buying option, you need to enter suggested retail price, tax, down payment, resale value, monthly loan payment amount, term loan amount, loan rate and present value of resale.
Template will calculate all key figures automatically.
| | |
| --- | --- |
| Name: | Buy vs lease car template |
| Category: | Personal Finance |
| Application: | Google sheets |
| Tags: | Buy vs lease car template google sheets |
Screenshots of the template: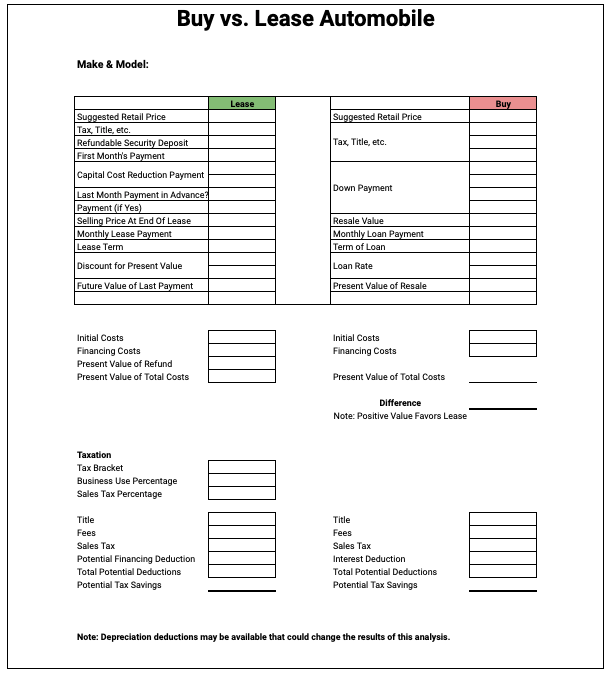 FAQ:
What costs are involved in buying a car?
The cost of buying a car will vary depending on the type of car you purchase. New cars will typically cost more than used cars. The cost of a car will also vary depending on the make and model of the car.
What is a car loan?
A car loan is a loan that is used to finance the purchase of a car. The loan is typically paid back over a period of time, with interest.
Typical car loan rate in usa?
The typical car loan rate in the United States is around 4%.
What is car leasing?
Car leasing is a process where you can lease a car from a dealership for a set period of time. The terms of the lease will vary, but typically you will make monthly payments and have to keep the car in good condition. At the end of the lease, you will either have to purchase the car or return it to the dealership.
Buying car vs leasing, which is better?
There is no definitive answer as to whether buying or leasing a car is better. It depends on your individual circumstances.