This template helps you track attendance at your organisation. You can use this template to track attendance at a school for students or you can track attendance of your staff at your office.
You can enter student or staff's name and mark 1 for present and 0 for absent against each day in the row. The last column will automatically calculate the total attendance in a month.
You can also modify this template as per your needs.
| | |
| --- | --- |
| Name: | Attendance tracker template |
| Category: | Business, Finance, Personal |
| Application: | Google sheets |
| Tags: | Student attendance template, Attendance sheet template, Employee attendance template, Google docs attendance tracking, Class attendance, Daily attendance, Student attendance roaster |
Screenshots of the template: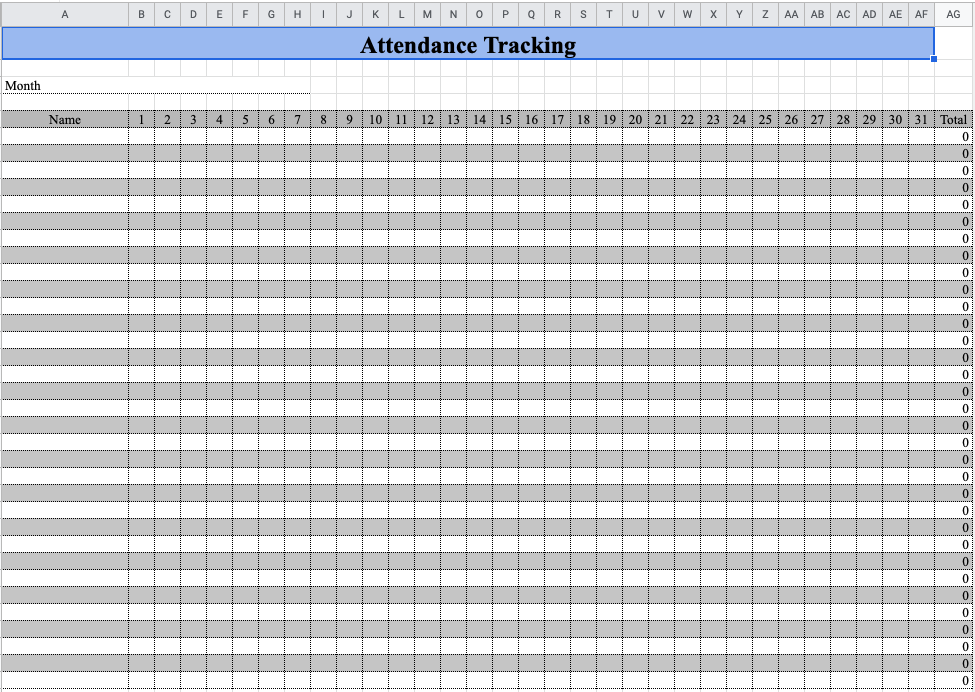 FAQ
What is an Attendance tracker?
An attendance tracker is a system used to track the attendance of employees or students. It typically includes a log in and out system, as well as a way to track tardiness and absences.
How to track attendance in a school?
There are a few ways to track attendance in a school. One way is to have a sign-in sheet at the entrance of each class. Another way is to use an attendance tracking system, which can be either paper-based or electronic.
How can a spreadsheet help?
Using a spreadsheet to track attendance can be helpful because it allows you to see patterns and trends over time. It can also help you to quickly identify when someone is absent or late.